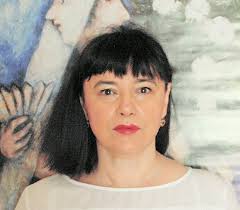 Prof. Gordana Varošanec-Škarić
Office: B 314
Phone: 4092 374
gvarosan@ffzg.hr
Office hours: Winter Semester: Fri 13:15-14:45 Summer Semester: Tue 14-15:30
Bibliography
Gordana Varošanec-Škarić, PhD is a full professor at Department of Phonetics, University of Zagreb.
She completed a Degree in Dramaturgy at Academy of Theatre, Film and Television in Zagreb and also Comparative Literature and Phonetics at Faculty of Humanities and Social Sciences. In 1993 she completed Joint Postgraduate Programme in Information Science at University of Zagreb and received scientific Master Degree in Communication Science. In 1998 she completed PhD programme in Humanities, scientific area of Linguistics at Faculty of Humanities and Social Sciences in Zagreb (Acoustic features of pleasant voice).
She teaches several courses at the Department of Phonetics, at both bachelor's and master's programme: Orthophony, Speech in Mass Media, Metodics of Speech Training in Electronic Media, Public Speaking, Metodics of Phonetic Voice and Pronunciation Care. She has developed and taught several other courses for the programmes in phonetics (Orthoepy of Croatian Language I and Speech Exercises, Non-verbal Communication) and for other programms in Croatia (University of Dubrovnik (course Speaking Culture), Academy of Dramatic Arts (course Phonetics) etc.). She teaches at Doctoral programme in Linguistics, from 2006/2007 an elective course Forensic Phonetics and from 2012 mandatory course Rhetoric of Science. Till 2016 she was teaching Speech in Mass Media and Non-verbal Communication at Doctoral programme in Information Science.
She has published several books and textbooks relevant for aesthetic and acoustic phonetics (Timbre, Phonetic Voice and Pronunciation Care) and forensic phonetics (Forensic Phonetics) and numerous scientific papers. She has participated in more than 30 scientific conferences and was a plenary speaker at several of them. From 1986 she was a researcher at project "Handbook of Standard Croatian Prosody" at Faculty of Humanities and Social Sciences in Zagreb. She was principal investigator of three scientific projects funded by the Ministry of Science, Education and Sports and seven projects in Forensic Phonetics funded by University of Zagreb. From 1998 to 2003 she was a researcher at bilateral scientific project and from 2018 international EU project. She was project manager of VOC.COM project funded by European Union.
She has mentored some 30 Master's theses and six Doctoral theses. She received Annual Award for Excellence from Faculty of Humanities and Social Sciences, University of Zagreb for the book Phonetic Voice and Pronunciation Care. She was head of the Department of Phonetics (2002-2004), Head of Phonetics Section of Croatian Philological Association in two terms (2001-2009). She is a long-term member of Croatian Philological Association Chairmanship. She is a member of international scientific-professional associations (International Association of Forensic Phonetics and Acoustics (IAFPA)). She was a member of Faculty Council in several terms, of the Committee on Philology of the Republic of Croatia (2013 – 2017). Currently she is a member of the National Council on Linguistics (from 2016) and from 2017 member of the Field Scientific Council for Humanities and Social Sciences University of Zagreb. From 2015 she is an Editor in Chief of scientific journal Govor. She has organized several scientific conferences with international participation and was the President of Programme Committee of scientific conference Research into Speech, international conference on rhetorics Days of Ivo Škarić on several occasions and international conference IAPFA (2017).